Federation Francaise de Basketball (Basketball) (Basketball)
Latest News & Results
A little history
To understand a sport, you must know its history. Basketball was born in the winter of 1891, in Springfield, United States. This is a teacher of the normal school YMCA (Young Men's Christian Association), James Naismith (1861-1939), who imagines a new indoor sport. The idea is to have a new business, entertaining, educational, and promotes the address against the force. It was a success and the game spread rapidly in the United States and around the world. The first game is played in Europe December 27, 1893 in Paris in the living street Treviso.
Despite an early appearance, it takes time for basketball grows in France. It first operated in 1921 by a commission of the French Athletics Federation which became in 1929 the French Athletics Federation and Basketball. FFBB born in 1932.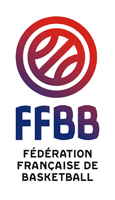 Role and Mission FFBB
The French Federation BasketBall is an association which aims to organize and develop basketball in France.
With over 525,689 licensees and 4,745 clubs located in 32 regional leagues(including 8 overseas) and 95 Departmental Committees, FFBB provides the following roles:
Participate in the promotion and education through sports and physical activities.
Promote access to one and all to the practice of sport and physical activity.
Develop leaders, facilitators, trainers and coaches federal.
Organize the practice of arbitral activities within the discipline.
Ensure compliance with technical requirements, security, management and ethics of the discipline.
Deliver federal securities.
Organize medical surveillance of their licensees.
The organization of basketball in France
The French Federation BasketBall manages the practice of all the national championships except Pro, Pro B and hopes that are the responsibility of the championships LNB (National Basketball League) since 1988 competitions departmental and Regional are managed respectively by the Departmental Committees and regional leagues.
These decentralized organizations and clubs rely on the energy and the work of thousands of volunteers to help our sport.

Beyond the traditional framework of the club, basketball is a sport that can also be implemented outside the structures. Learn about the different practices of basketball in the "Play" section of the website.

FFBB present on the international scene
State-approved since 1971, is FFBB basketball with governments as well as from national and international sporting organizations.

The Federation is represented in the highest levels of the sport as the French National Olympic Committee of French Sport (CNOSF) and the Ministry of Sports, Youth, Popular Education and Community Life . It contributes to the development of sport in the territory and defends the interests of basketball.

FFBB also plays a key role in decisions on the international scene by sitting in the office of the FIBAand FIBA Europe . It defends its interests and those of its practitioners.
Platelets legends
In order to convey the history of our sport to the younger, the Commission of Legends FFBB created around themes diffirents platelet "Stories of Basketball."